The Golden Compass by Philip Pullman, narrated by by Philip Pullman, et al. (12 hours)
Pullman, Philip. (2003). The Golden Compass. (Philip Pullman, narr., Joanna Wyatt, Rupert Degas, ALison Dowling, Douglas Blackwell, Jill Shilling, Stephen Thorne, Sean Barrett, Garrick Hagon, John O'Connor, Susan Sheridan, et al.). [Audiobook.] Listening Library (Audio). Penguin Random House Audio Publishing Group. (Originally published 1995).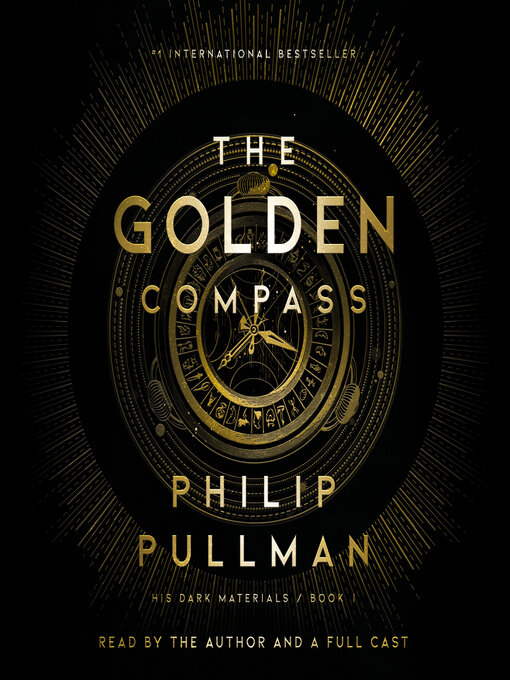 To evaluate an audiobook I decided to revisit one of my childhood favorites, The Golden Compass, the first book in the His Dark Materials series from Philip Pullman. Recently, it has been marvellously adapted to the screen by HBO, and having watched it, I wanted to reread it. I was delighted to find that the audiobook, which I accessed through my library's Overdrive e-zone, is narrated by Pullman himself, along with a full cast of voice actors. Click on the link to hear a sample.
The Golden Compass is a children's fantasy novel that follows Lyra, a young girl who lives in an Oxford that parallels our world and wherein each human has a daemon, an animal companion who acts as sort of a conscience and constant companion. Lyra, and her daemon Pan, live at Jordan College, an orphan to her knowledge, when a curious woman Mrs. Coulter takes her to London. The scholars of the College have always been at odds with those in power, a zealous church known as the Magesterium. With the help of the alethiometer, aka the eponymous Golden Compass, gifted to her by the Master of Jordan College upon her departure, Lyra learns that Mrs. Coulter is none too friendly, running the Genderal Obalation Board, an agency of the Magesterium supposedly responsible for the mass disappearance of children, including one of her missing friends. She decides to escape, with help of the Gyptians, a nomadic people who make their home on riverboats, to go North to find both her friend, Roger, a son of servants in the kitchens at the college, who has disappeared, and her uncle, Lord Asriel, who has been conducting mysterious experiments on a mysterious substance known as Dust whilst also looking for parallel worlds. Along the way Lyra finds harsh struggles but also deep friendships that along with her wit and cunning will help her reach her potential and fulfill her fate.
As a classic, the production of this audibook is exquisite. There is a full cast of voice actors, each taking on a major character, as well as has music interspersed appropriately and minimally. It is sheer entertainment, wth excellent narration that is incredibly engaging for any any listener. Since it is narrated by the author himself, it is without a doubt that the audiobook can stand alone and exists in and of itself "as a fully realized expression of the author's intent and meaning" (Burkely, 2007). Having done tremendous justice to the original written story, this audiobook would be a perfect introduction to books on tape for those young readers who have yet to thoroughly experience them. It is a great example of "the spoken word," that is "imagination's greatest champion," according to the ALSC/Booklist/YALSA Odyssey Award for Excellence in Audiobook Production. Foremost I see this audiobook as a perfect opportunity for entertainment in the library, to foster of love of reading as an instrument of imagination. As a craft extension in response to the story, however, kids could create their own daemons, through writing or art. There could also be a deep study of setting, comparing Lyra's world to ours, looking at how the author executes world-building.
After listening to the original story on audiobook, be sure to check out the trailer for the recently adapted series.