Something Happened in Our Town: A Child's Story About Racial Injustice by Marianne Celano, Marietta Collins, and Ann Hazzard, illustrated by Jennifer Zivoin (challenged picture book)
Something Happened In Our Town made the 2020 list of Top Ten Most Challenged Books, compiled by the ALA.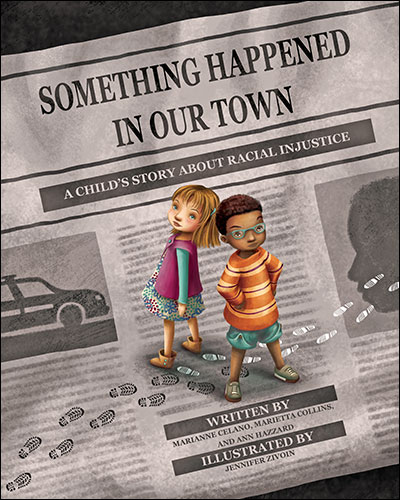 Celano, Marianne, with Marietta Collins and Ann Hazar, and Jennifer Zivoin, illustr. Something Happened In Our Town. Washington, DC: Magination Press, 2018.
In the aftermath of the murder of George Floyd and the uprising around the country, I searched for books that could help facilitate a conversation with students who might be reckoning with the events and the legacy of racism in this country. This title, aimed at children aged 4-8, was one of the ones I soon discovered and would have presumably leaned on heavily to facilitate conversations about racial biases had we been in person. With my district virtual for a full calendar year, from March 2020-March 2021, conversations did not evolve as I presume they would have in the classroom. I made resources available to those who needed them but to my surprise – and woe – many of my elementary school students, even the upper level, did not know what was happening in the country. Given the trends of this society, it follows that the book would make its way to the list of those most challenged. I am happy to see that despite this, many libraries in Rhode Island are currently cataloging and adding it to their collection. I hardly think the challengers have even read the book since it hardly seems "anti-police," perhaps "anti-police brutality" is a more apt and legitimate description. One kid is seen doodling pictures of police officers and the Black father clearly states, "There are many cops, Black and White, who make good choices."
The picture book is written by psychologists, whose careers have been dedicated to working with children and social justice, and as such handles the hard subject material comprehensively and thoroughly. The text features the aftermath of a Black man being shot by police in their town. Two families, a white family and a Black family, discuss the situation and the history of racism with their respective children. "I have power, and I am smart," says one child, to which his mother answers, "and you can change people's hearts by sticking up for someone who is not treated fairly." I do wish the book used more people centered language, such as "people who were enslaved" rather than "slaves." I do believe that the book is a necessary one to have on the shelf, as students will inevitably encounter instances of community violence, as well as racism and prejudice.
The text moves through each family's conversation providing adults with a starting point to discuss racial biases with children of all backgrounds. The illustrations are digitally rendered and serve to supplement the text without distracting a child who may be listening to the read aloud. Inset boxes, akin to comic books, move the listener along the page and focus their attention on details.
Just as valuable as the text itself, the end of the book features an extensive Note to Parents and Caregivers with guidelines for discussing race and racism with children, definitions that are child-friendly, and sample dialogues for having these conversations with kids. I especially appreciate the notes for having conversations with children, and the reminder to respond with "What makes you say that" without judgement when a child passes a comment that might be racially biased. I appreciate that the definitions do not stop at simple definitions, rather including for example what prejudice is (believing negative or bad things about someone who is different from you without proof), where it might come from, why it is a problem (because you have already made up your mind or have a bad belief about someone before you know the person), and that it is wrong! I look forward to checking out the recent publication by the same authors and illustrator, Something Happened in Our Park: Standing Together After Gun Violence.
From the Note to Parents and Caregivers:
There are many benefits of beginning to discuss racial bias and injustice with young children of all races and ethnicities:
Research has shown that children even as young as three years of age notice and comment on differences in skin color.
Humans of all ages tend to ascribe positive qualities to the group that they belong to and negative qualities to other groups.
Despite some parents' attempts to protect their children from frightening media content, children often become aware of incidents of community violence, including police shootings.
Parents who don't proactively talk about racial issues with their children are inadvertently teaching their children that race is a taboo topic. Parents who want to raise children to accept individuals from diverse cultures need to counter negative attitudes that their children develop from exposure to the negative racial stereotypes that persist in our society.
Free resources, including a teacher's guide, specific read aloud tips, and other book lists are available here, on the APA's website, apa.org. Sample pages, care of the American Psychological Association, can be accessed here. The book was also published in Spanish.